TONY (Time Out New York) hat den Titel Good Times von Chic auf Platz 3 der besten 50 Songs von New York gewählt. Eine große Ehre, vor allem wenn man sich die anderen Titel dieser Reihung ansieht.
1. I'm Waiting for the Man / Velvet Underground
2. Ko-ko / Duke Ellington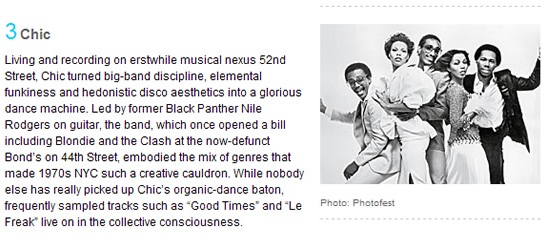 4. In a Silent Way Shhh Peaceful / Miles Davis
5. Fight the Power / Public Enemy
6. Don't Explain / Billie Holiday
7. Tito Puente Cuando Te Vea
8. Peter Piper / Run-DMC
9. Swanee / Al Jolsen
10. Someone to Watch Over Me / Ella Fitzgerald
Hier kann man die gesamte Playlist in iTunes herunterladen. Und hier gibt es den gesamten Artikel zum lesen.