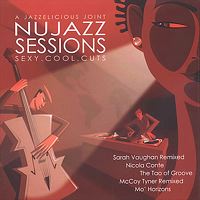 Eine aussergewöhnlich gute Compilation ist mir heute beim stöbern auf Dancetracks Digital aufgefallen. Nu Jazz Sessions überzeugt durch etliche bisher sonst noch nicht erschienene Titel. Die Liste der Künstler auf diesem Album inkludiert Nicola Conte, Mo' Horizons, Jazzelicious, The Tao Of Groove, Sarah Vaughan, McCoy Tyner, Stateless, Zigo, Physics. Die richtige Musik zum geniessen an einem verregneten Sonntagnachmittag.
1. Lover Man – Sarah Vaughan (Jazzelicious remix)
2. Falling Into – Stateless (Swell Session's Boy Wonder mix)
3. Flying Away – Physics
4. Out Of Nowhere – Zigo
5. Blue Bossa – McCoy Tyner (Jazzelicious remix)
6. Inspiracao – Praful
7. Jet Sounds – Nicola Conte (Nu Spirit Helsinki remix)
8. Dance Floor – The Tao Of Groove (Le D remix)
9. Movie Star – J-Radical
10. Alive Tonight – Mo' Horizons (Bobby Hughes Combination mix)
11. Smoking Jacket – Burning Giraffe
12. Flutecrous – Joint Chiefs Of Staff
Und einen zweiten Teil dieser Serie gibt es auch, den höre ich mir sicherlich demnächst an.